Annual Breast Cancer Awareness Fundraiser at Zin Bistro
---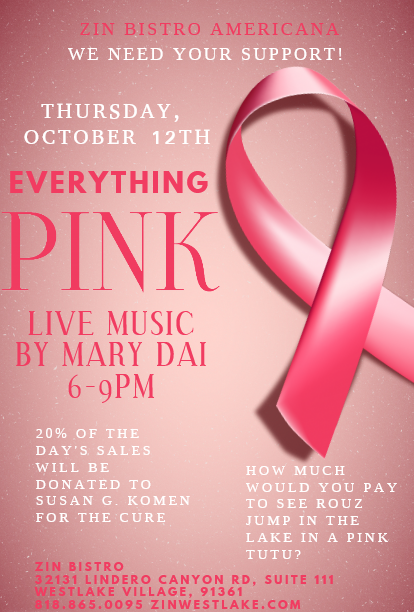 Support Susan G. Komen for the Cure on October 12th on the Lake in Westlake Village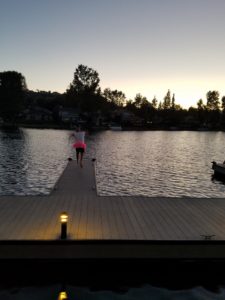 Join us on Thursday, October 12th to support an amazing cause! 20% of all proceeds for the day will be donated to Susan G. Komen for the Cure! There will also be a donation box circling around the restaurant all day; If we reach $1,000 Rouz will be jumping in the lake in a pink tutu!
We will also be having live music by the talented, Mary Dai from 6:00pm
to 9:00pm, so dress in your finest pink, and get ready for an amazing evening promoting a great cause!
Each year we partner up with some amazing people to put on our Annual Breast Cancer Awareness Fundraiser on the lake to emphasize the importance of October being Breast Cancer Awareness Month. It is extremely important to raise awareness for this disease that unfortunately hits too close to home for many. With increased education throughout October, we can increase awareness of the causes of breast cancer, how to prevent breast cancer, early detection, treatment, and hopefully one day, a cure. Throughout Breast Cancer Awareness Month, it is important to also support those affected by the disease.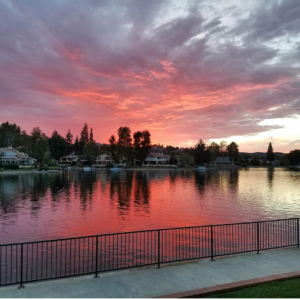 Mark your calendars for a great night supporting this amazing cause! Not only will you have fun, but you will be making a difference!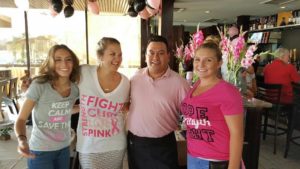 Please do not hesitate to contact Zin Bistro Americana in Westlake Village, California with any questions. We look forward to increasing awareness with you on October 12th!